WE BELIEVE IN FOCUSING 100% OF OUR ENERGY ON WHAT WE DO BEST: SUPPORTING BEES AND THEIR KEEPERS BY CRAFTING THE HIGHEST QUALITY HIVES AVAILABLE.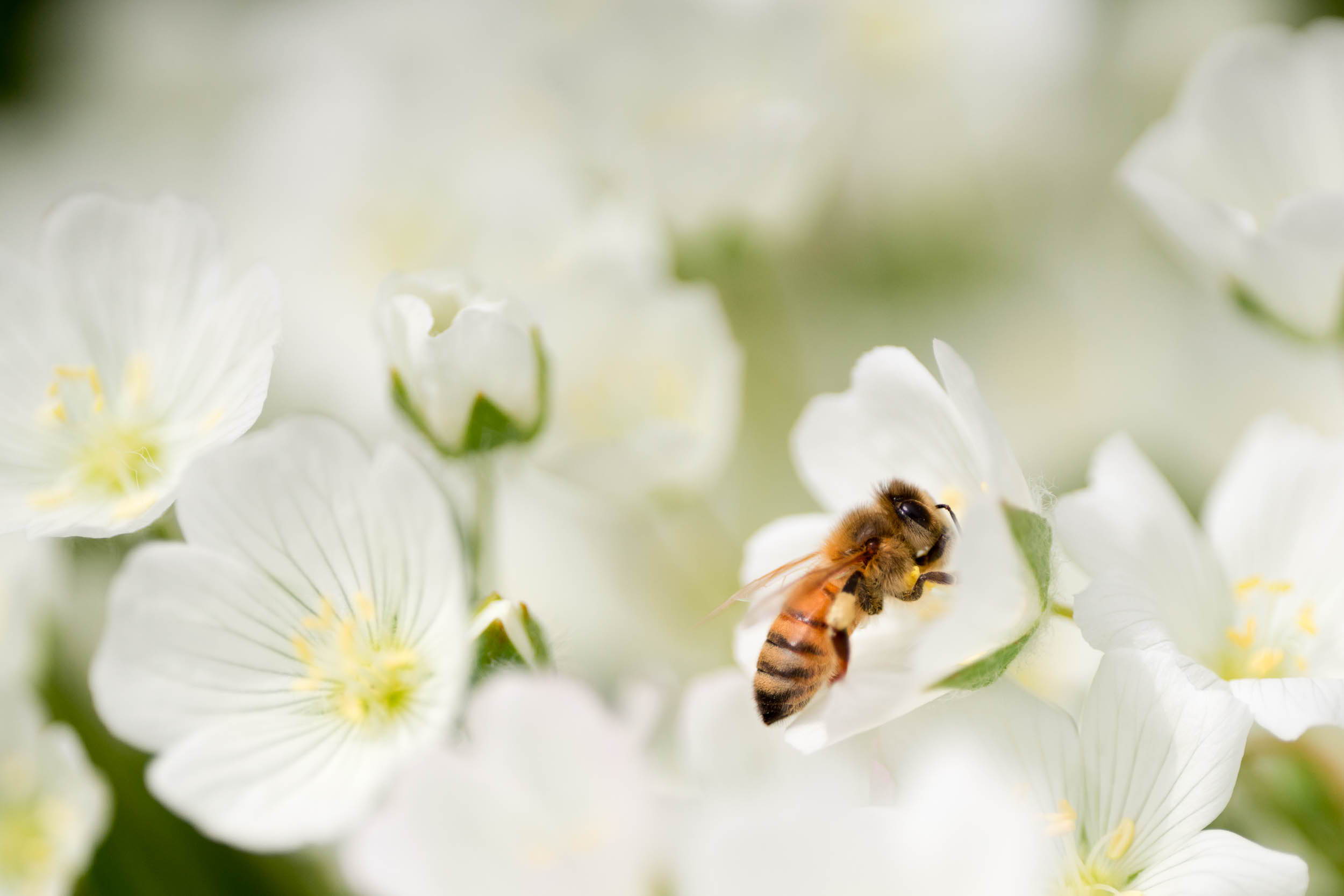 In order to provide our customers with the knowledge and expertise necessary for a successful beginning, we've partnered with Portland-based beekeeping educators, Bee & Bloom.
Below, we've answered the questions we hear most frequently from new beekeepers along with some helpful resources to get you started! Should you find that you need some extra support along the way, the ladies at Bee & Bloom are available for private consultations, host hands-on workshops in the Portland area, and have a wide range of resources available on their website.
Frequently Asked Questions
IS BEEKEEPING LEGAL IN MY LOCATION?
Beekeeping is legal in most places, but many do require permits and have some practical regulations such as requiring you to notify neighbors and restricting the number of hives you can have. You will need to check on your local laws (both city and state); the easiest way to do this is to run a Google search on your local beekeeping association. Most states have several, and larger cities generally have their own. They will be able to give you specific information on local laws and regulations.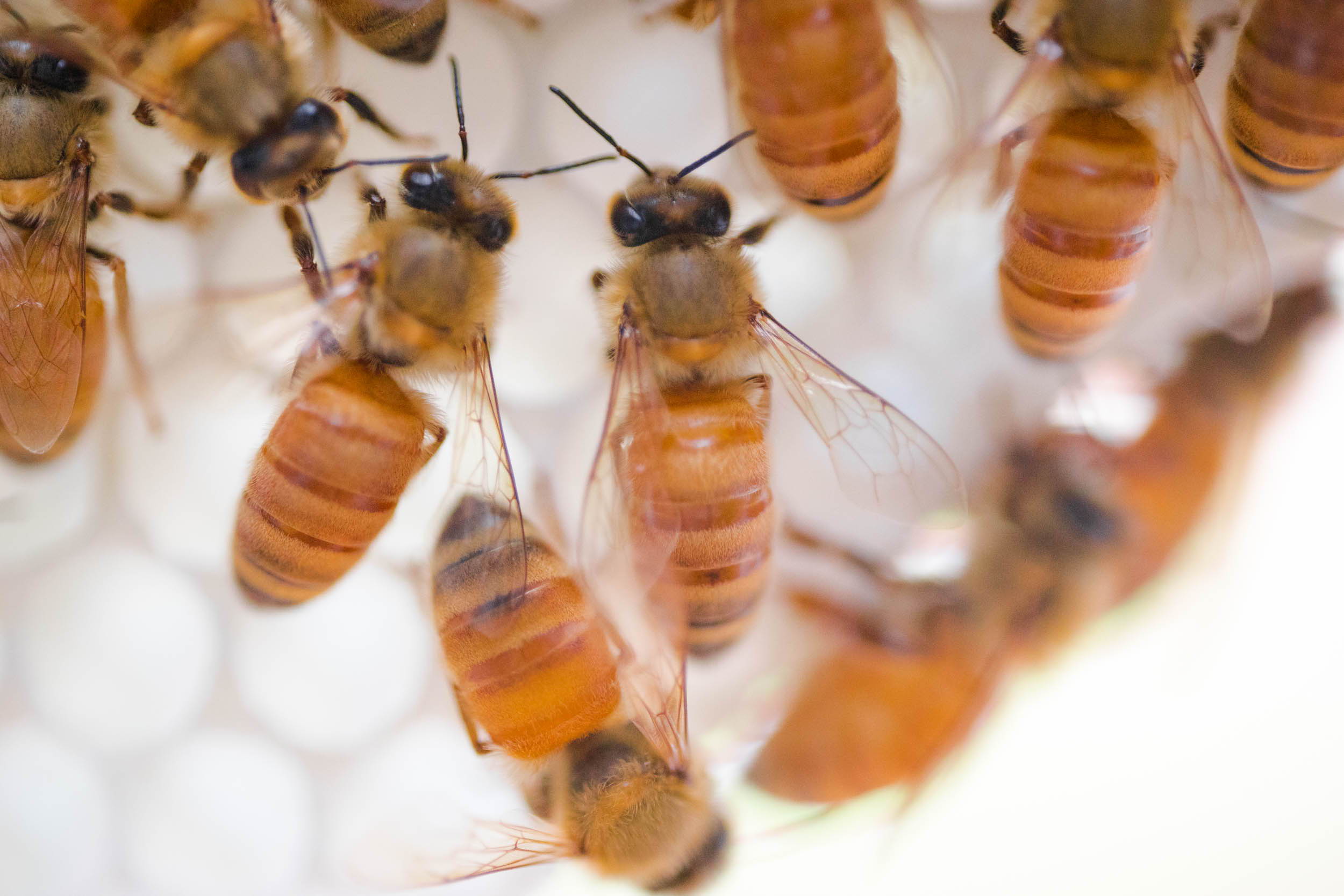 ---
CAN I KEEP THEM IN MY BACKYARD?
If it is legal, then yes! Honeybee hives have a small footprint, and non-foraging bee activity is generally contained close to the hive. They are defensive, not aggressive, so they will leave you alone unless you are intruding in their hive. There are many ways to arrange your hives so that the humans, pets and bees aren't crossing paths much at all! More on hive placement below.
---
HOW MUCH TIME DOES IT TAKE?
Most backyard beekeepers have between 2 to 4 hives and should plan to spend about 20 minutes on each hive every week or two. In the spring, plan for a few hours to bring your hives out of their winter configurations and get things ready for summer expansion. In the fall, plan for a few hours of honey harvest and processing. In the winter, you won't be opening your hives at all!
---
IS IT HARD WORK?
Not if you stay on top of hive maintenance! In your first few years, plan to be in your hives every 2 - 3 weeks. The spring build-up and fall harvest will be your busiest times of the year. If something goes wrong, you will need to be prepared to get into an angry hive and piece things back together. You can always call in a mentor or consultant for backup when necessary!
---
WILL THEY BOTHER MY NEIGHBORS?
For the most part, honeybees are very gentle and will keep to themselves unless they feel threatened. A little honeybee education (and some honey!) can go a long way with jumpy neighbors. Proactive hive maintenance can help prevent many people from being spooked by the sight of a beehive or a swarm.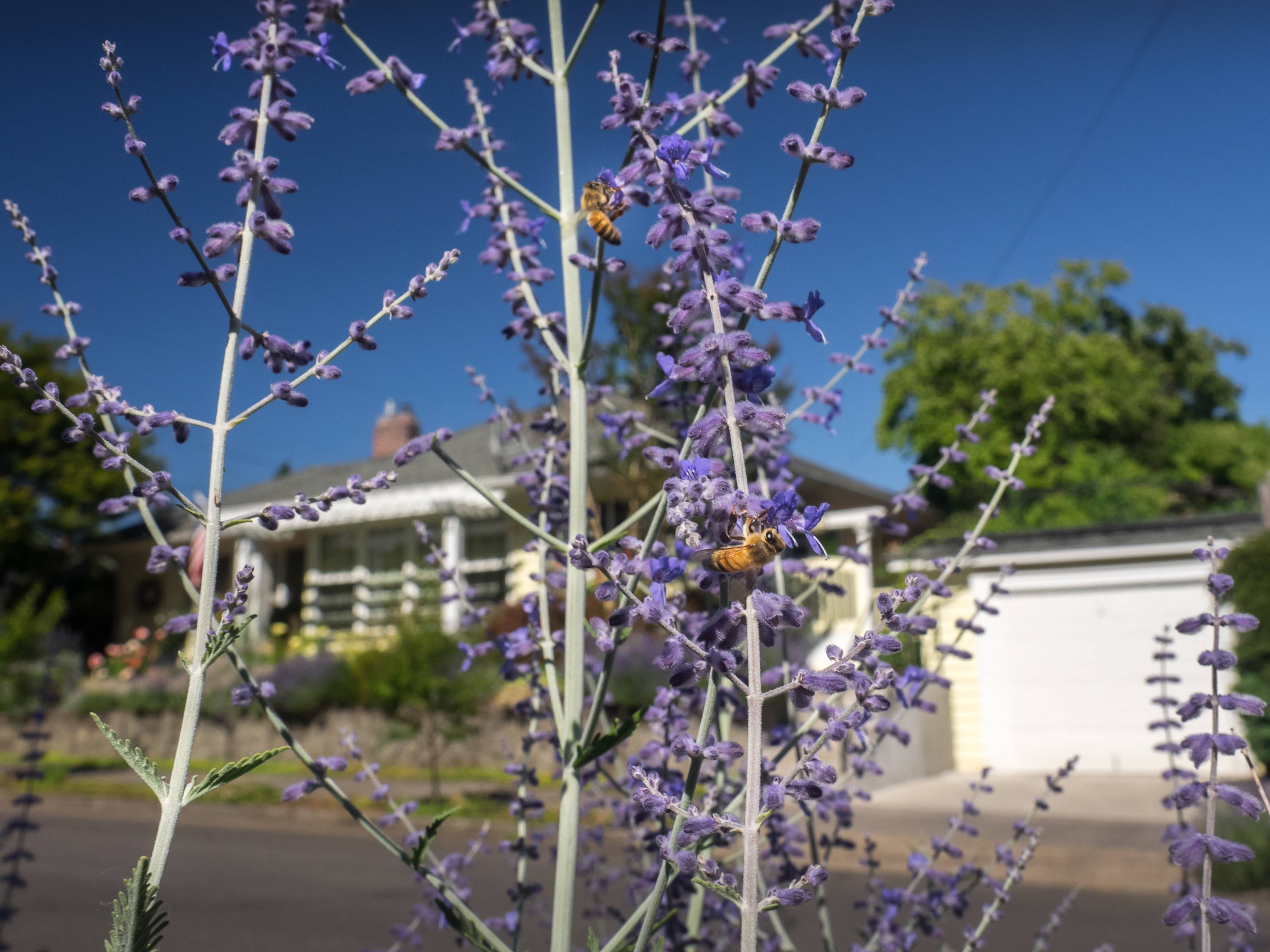 ---
HOW MUCH HONEY WILL I GET?
The million dollar question! Honestly, it's nearly impossible to predict. The amount of honey you harvest is dependent on many different factors: bee health, colony age, colony size, local weather, forage availability, etc. For a rough estimate, you can expect anywhere between 25 - 75 lbs from one colony in a good year. It is also important to note that most beekeepers do not expect to get excess honey from a colony in their first year. In their first year, the bees must invest lots of time and energy to building comb rather than storing honey.
---
DO I HAVE TO WEAR A SUIT?
We do recommend wearing protective gear when you are getting started. As you gain experience and become comfortable with your bees, you may decide to forgo gloves or full suits. We recommend, at the very least, always wearing facial protection.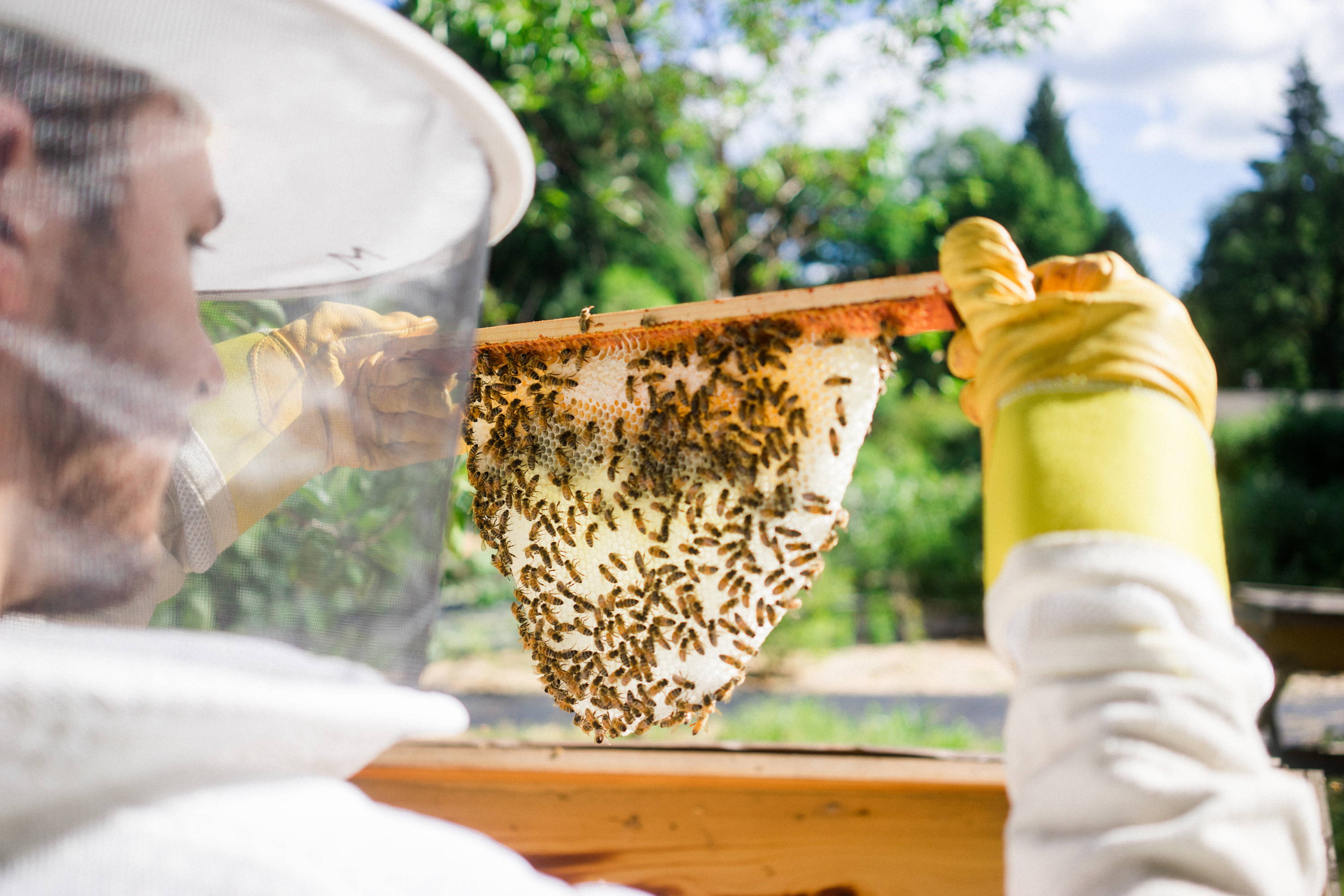 ---
WHAT EQUIPMENT DO I NEED?
The basic equipment you will need to get started is a hive (or two), protective gear (veil, gloves and jacket or suit), hive tools (pry bar, smoker) and some bees! For a breakdown of essential beekeeping gear, click here.
---
HOW MANY HIVES SHOULD I START WITH?
We recommend starting with two beehives. You can make it work with one, but having multiple will accomplish a few things: you'll have a better chance of overwintering at least one hive successfully, you will speed up the learning process by having the chance to observe colonies progress at different rates, and you'll have the option to pull resources from a strong hive to bolster a struggling one. The workload of two hives is not dramatically different from the workload of a single hive. Plus you'll get some extra honey!
---
WHERE DO I GET THE BEES?
There are four main ways to obtain honeybees for your hive: packages, nucs, swarms and baiting. Purchasing a package or a nuc is the only guaranteed way to have bees at a set time. You will reserve them in the winter, and pick them up in the spring. You will then install the bees directly into the hive you have set-up. Be aware that nucs are only compatible with Langstroth hives.
The other two methods are passive and are not a guaranteed method of populating your hives. That said, capturing swarms is our favorite way to get bees! Bees from swarms have often successfully overwintered in your local climate, and were healthy enough to swarm. These are indicators of strong genetics, and will lead to better beekeeping success for you.
It's often a good idea to stock your first hive or two with nucs/packages, and then rely on swarms, baiting and splitting of surviving hives in the spring to expand your apiary. For more information, click here.
---
WHEN SHOULD I START?
A new beekeeping venture should always start in the winter. That is the time to attend classes, read books and order your equipment. Once spring hits, it's time to make sure your hives are built and painted, flowers are planted and your yard is set-up and ready for the bees. In late spring, once temperatures are consistently above 50 degrees and flowers are blooming, your bees will be ready to move in!
---
WHERE DO I PUT MY HIVE?
Assuming you have already determined that your location is legal and there is sufficient forage around, the primary consideration for hive placement is safety. Hives should be put where they will not be a threat to people (and animals) that are nearby. Place them in an out-of-the-way location and point the entrances away from areas that will be frequently occupied. You can also face them toward a wall, fence or hedge which will force the bees to fly up and out - keeping their flight paths well above human height. It's also a good idea to place them somewhere not easily seen by neighbors and passersby.
Next, they need to be in a location where they will receive a good amount of direct sunlight (morning sun is ideal). Make sure they're not in an area that is prone to flooding, and if it is a particularly windy spot, you'll want to provide some sort of windbreak. Hives should be placed at least a foot off the ground to keep out unwanted intruders. Some beekeepers recommend facing hive entrances southeast to catch morning sun and avoid northern winds, but do this only if the above criteria can be met first. Honeybees are adaptable, and as long as they have plenty of forage, sun and can stay dry - they'll be happy.
---
WILL I GET STUNG?
Yeah, you will. It won't be often, but it'll happen. If you are respectful of your bees and take the appropriate safety precautions, you will greatly reduce your chances of getting stung. It is wise to find out if you have a serious allergy beforehand (your doctor can help you with that). For most people, an ice pack and some antihistamines will have the sting cleared up in no time!
---
DO I HAVE TO TREAT?
You do not have to treat, but it can be the best course of action in certain cases. If you decide to go the treatment-free route, it requires a great deal of forethought and planning that can be a little bit intimidating when you're getting started. We do recommend working with an experienced beekeeper in the beginning to establish responsible practices.
Our personal philosophy is to keep chemical treatments out of our hives entirely, but this does require that we intervene in other ways (regular mite monitoring, small hives, splitting/swarming, etc.). Unfortunately, in this day and age, letting your bees go completely unchecked can result in colony death and the spread of mites to other colonies in your area. Check out this post to get a better idea of how to craft your treatment philosophy.
---
WHAT IS NATURAL COMB/FOUNDATIONALESS BEEKEEPING?
Traditional beekeeping in North America utilizes a pressed plastic or wax "foundation" in the frames, giving bees a guide on which to build their comb. Our beekeeping philosophy is to let the bees run the hive with minimal human intervention, so we don't use foundation in our hives. We let the bees build natural comb from top bars or frames (depending on the hive style), which allows them to control cell size, keeps contaminants out of the hive and helps control varroa mites. For more information, check this out.
---
WHAT SHOULD I READ?
There are so many wonderful books available. Some of our favorites are:
The Practical Beekeeper Series by Michael Bush
Top-Bar Beekeeping by Les Crowder
Honeybee Democracy by Thomas Seeley
---
BEEKEEPING MAY NOT BE FOR ME. HOW ELSE CAN I HELP?
The number one way you can help honeybees and native pollinators is to plant loads of pollinator-friendly flowers. Choose native or non-invasive species of flowering plants that will bloom in every season, and be sure to avoid using harsh chemicals and pesticides in your yard. Also check in with your garden supply store to make sure they are not selling plants previously sprayed with insecticides, especially neonicotinoids.
Gift seeds to friends and neighbors, and get them planting, too! Aside from that, you can also provide habitats for different types of native bees - they don't sting and don't require any upkeep, so it can be a wonderful option for people who can't commit to honeybee hives.